Because why would Riot actually have a filter just for the Emporium, right? That would be silly.
LoL Blue Essence Emporium Chromas: How To Filter For Skins You Own
The Blue Essence Emporium just started on September 6, 2023, but many players are confused about how to use the shop efficiently. Since Riot didn't include a filter option for LoL's Emporium, we'll show you a trick to filter for chromas of skins you actually own!

How is it that Riot has constantly told us that they're "fixing" the Emporium, only to forget one of the most basic features the shop should have? While the Blue Essence Emporium is a nice opportunity to finally be able to buy items in LoL that would usually require us to pay cash for, having a properly functioning Emporium shop would just be the cherry on top. 
If you're thinking about getting a new skin, so you can immediately buy the available chromas, get some free RP with Prime Gaming to fulfill your dreams!
Instead, Riot seems to have forgotten to add an option to the Emporium tab for players to be able to filter out chromas for skins they actually own and can buy, which many players are understandably frustrated about. 

Don't worry about having to actually scroll through every single available chroma and wasting your time, we've already got a solution to this little problem!

How To Filter For Owned Skins During The Emporium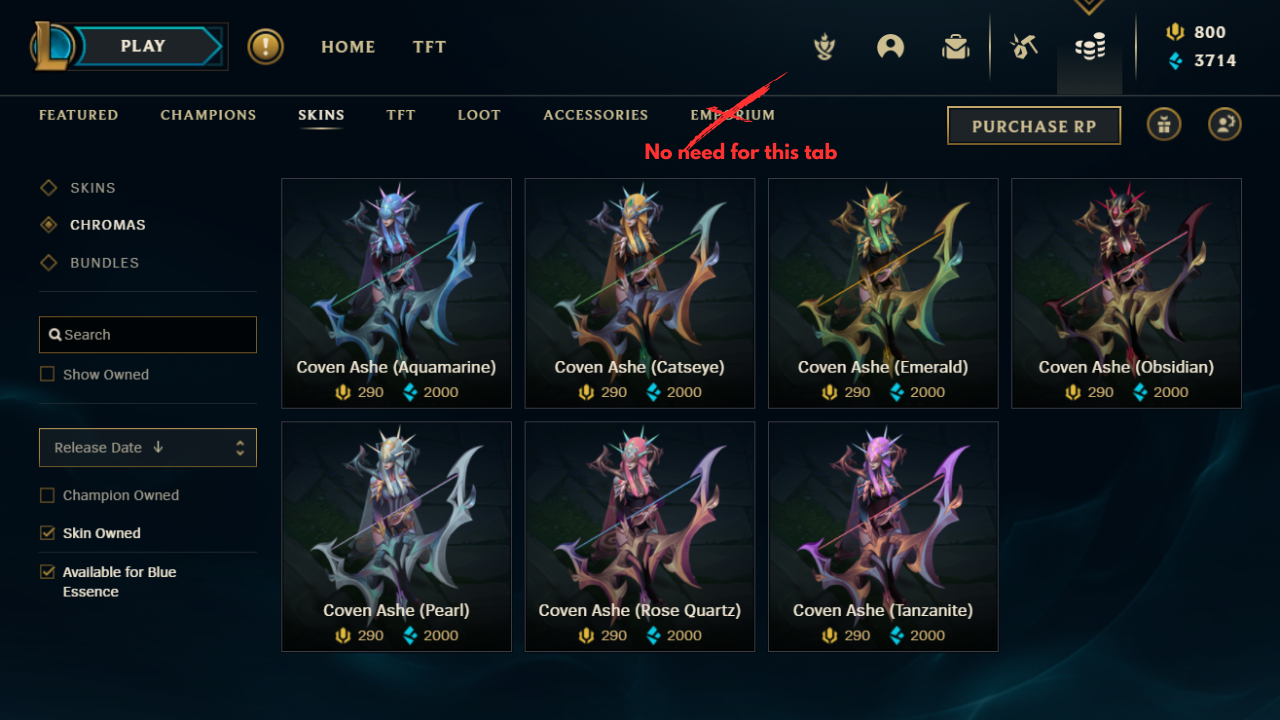 We're picking up after Riot by showing you how to DIY your own Essence Emporium filter, thanks to a handy tip over on Reddit.
If you only want to see the chromas that are available for you to buy, then just follow these few steps:

Click on the "Skins" tab in LoL's client.
Afterward, check the "Chromas" option.
Now, filter your options by clicking "Skin Owned" and "Available for Blue Essence"
Congrats! That's it!
You can also check out the image above if you're not sure which options you should click on in the client. 
Thanks to these few steps, you won't even have to touch the Emporium tab during the Blue Essence Emporium event, isn't that great? Maybe we'll actually see a filter option or actual improvements during the Blue Essence Emporium in 2024. 
What? Can't a girl dream anymore?

This article contains affiliate links as indicated by the shopping cart icon. Please read the article carefully before clicking any links.